4 Must Try Skin Care Products To Add To Your Beauty Routine
Hello, Lovelies!
I wanted to write a quick post about some of my favorite skincare items that I consider to be essentials now!
You only have one life, one face, and taking care of it is obviously pretty important.
As I see it, there are a few items that you should never skip out on in a regular skincare routine, and since I get questions related to my skin and what products I use, I figured that would be one of my first few posts!
#1 Soap and Glory Target Face Soap and Facial Wash ||
This face wash is SO gentle-literally gentle enough to use twice a day, in my opinion, and has little micro-beads that polish your skin! Since the microbeads are pretty gentle, I do make sure to use a cloth to get a little more exfoliation.
Fragranced with refreshing cool chamomile and mint with natural sage, eucalyptus and lemongrass oils, this will take you on a mini vacay each time you use it.
My friend with combination/oily skin that recommended it to me struggled for many years with acne, and she absolutely loves it. It's advertised for all skin types, and I have combination dry skin and it works for me too!
#2 Pixi Glow Tonic || This beauty might just be a miracle worker. I was hesitant to try it initially, since I'm inextricably attached to my basic clinique toner but it had amazing reviews, and again (Thank you, Jordyn), my friend pushed me to try it! WOW. It definitely lived up to its hype.
Instead of just toning, it simultaneously moisturized with aloe vera, ginseng and botanical extracts, literally leaving me with an actual glow-and I don't mean oily, more like lit from within. It even won an award in Teen Vogue last year!
#3 Valjean Labs Glow Facial Serum||
Welcome to the newest addition to my skincare routine! This serum is advertised as a supplement for your skin, and it's honestly not wrong. Main ingredients are a lightweight Vitamin C & magnesium serum which is great to brighten, tighten, & makes the skin…glow. Valjean Labs also has 3 other serums: Restore, Clarify and Hydrate which I have not tried yet! These serums are considered to be a dupe for the Glossier serums and many people think that they work better based on reviews! This can be worn under/over and along with your favorite moisturizer....mine is Clinique's Dramatically Different Moisturizing Lotion.
Price ALERT: You can grab these at Marshalls or T.J.MAXX for $5.99 each, or if hunting them down in store isn't your style, Urban Outfitter's sells them for $15.
#4 Dr. Jart + Clay Mask To Foaming Cleanser Trio ||
I really can't say enough good things about this Dr. Jart + face mask trio. If my skin is feeling irritated or dry, I use the white or pink. If I'm in the mood for a cooling, minty DEEP clean feel, I go for the green which is my favorite (as you can tell from this photo). A little goes a LONG way, seriously and you can also use this as a regular cleanser-it turns into a foaming wash that removes all traces of makeup. I love it!
$22 on Amazon here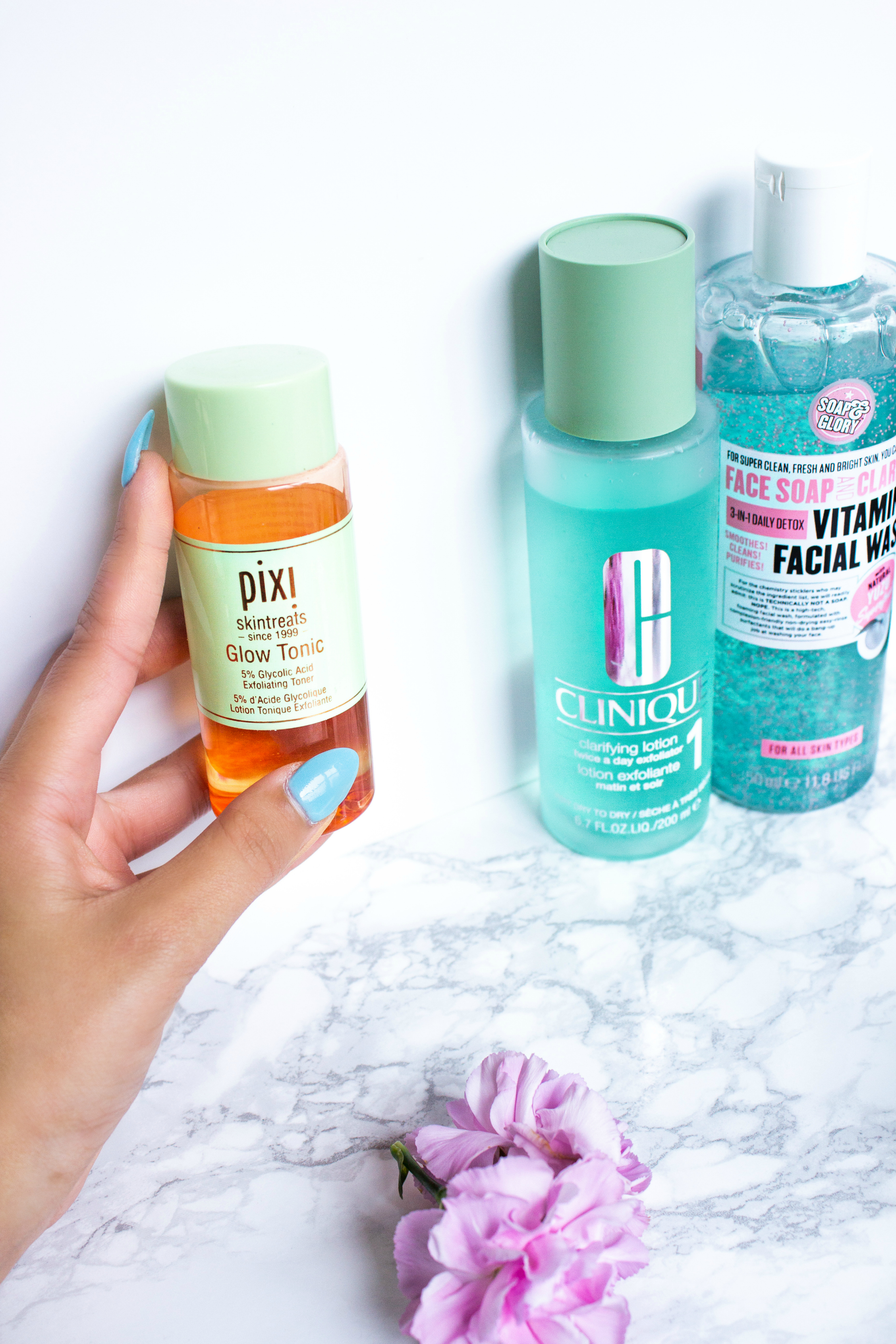 That's about it for today!
These are the products that have transformed my routine :) I'd love to know yours!
If you have a moment, please fill out this brief survey so that I can learn a little more about your interests and what kind of posts you would want to see more of!